Gaye Zimmerman-Huycke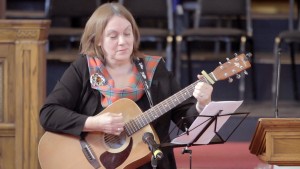 Gaye Zimmerman has been singing for children and adults for more than thirty years and hopes to continue for another thirty! Her early training was at York University/Fine Arts and the new School of Theatre.
She works in the Toronto school system providing a musical education and experience for pre-schoolers and their families/caretaker.
For the last ten years she has been happy to be a part of the big Band Gordon's Acoustic  Living Room playing rhythm guitar, singing and song writing.  An extra bonus has been learning the traditional Scottish pipe tunes brought into the band by fellow member Rory.
She is delighted to be extending her repertoire in Scottish music and playing guitar and singing with Caledon County.
Stephanie Miletic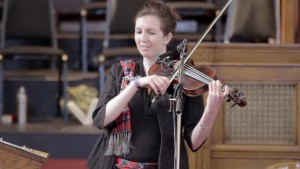 Stephanie Miletic completed her Bachelor of Music – Honors Viola Performance at the University of Western Ontario, close to her home town of St Marys, Ontario. During her studies at UWO, she studied with Virginia Barron, Calvin Enns and was a member of the 2007 National Youth Orchestra of Canada. Following graduation at UWO, Stephanie pursued studies in British Columbia in Arts Administration.
While living on the West Coast she performed with the West Coast Symphony and independent artists Christopher Smith and the Beck & Call, Corbin Murdoch and Lighting Dust. Upon moving back to Toronto, she has continued performing both on viola and violin. Selected viola performances include the principal positions with the Stratford Symphony, Scarborough Philharmonic and the Ontario Festival Orchestra China Tour (2012). Stephanie's violin performances are varied in both the classical and folk idioms. She regularly performs with Doug Paisley, Gordon's Acoustic Living Room, Scottish band Caledon County Trio, Irish Bands as well as the Scarborough Philharmonic Orchestra.
Rory Sinclair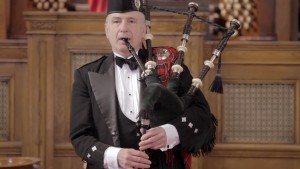 Rory has been doing music in one way or another all his life. To begin with, there was a piano in the family home in Deep River and he noodled on the instrument almost daily till he left home for University.  While in Deep River he took lessons on the Great Highland Bagpipe and the Saxophone. In addition he played clarinet and ukulele in two folk groups –self taught on both.
While at University he took up guitar – learning on his roommate's instrument. The guitar has been a constant in his life ever since.
In 1991 Rory took up his bagpipes again and embarked on 20 years of weekly lessons with Pipe Major John MacKenzie of Newmarket   In the '90's he competed at Highland Games with some success in  Piobaireachd [classical form] as well as light music. Since taking up his piping again he has composed over 20 original pipe tunes
Since 2000, Rory has been most interested in combining the music of the bagpipe with other instruments He has produced 3 CD's of pipe music both traditional and with other instruments Two are available in their entirety elsewhere on this website. The most recent, "The World Through a Piper's Fingers" features tunes, genres and songs that have never seen pipes: Bob Marley, Chuck Berry, Cajun, Calypso inter alia.
Rory also plays in the musical collective Gordon's Acoustic Living Room founded in 2004 and now it its 10th year of playing monthly gigs at the FreeTimes Café at College and Spadina. He has played in several Irish bands, for various tracks on CD's of other musicians, for countless academic processions, weddings, funerals and plays pipes with organ in many downtown churches.  But the musical position of which he is most proud is being appointed Piper to the Earl of Caithness, Hereditary  Chief of Clan Sinclair..
Rory makes ends meet as a residential general contractor in downtown Toronto.