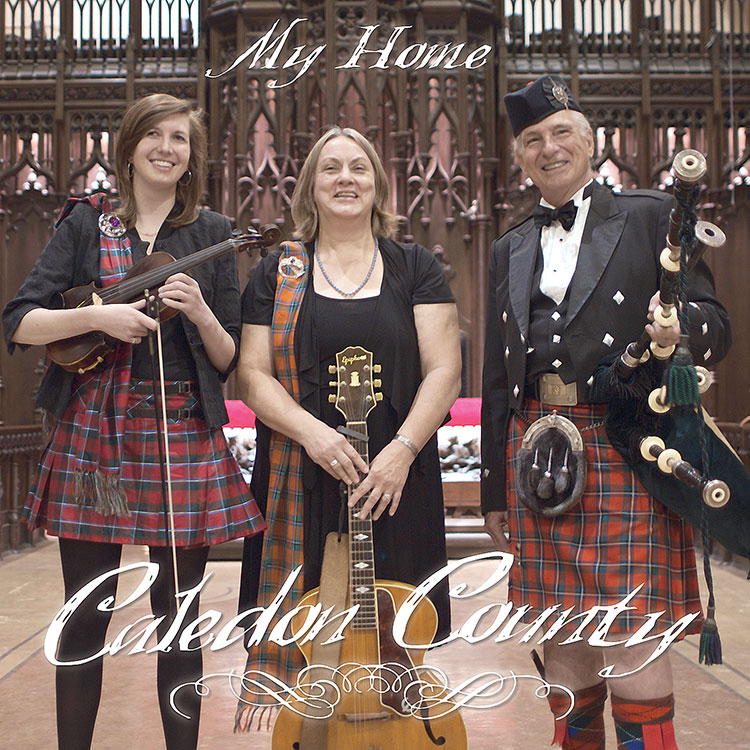 Caledon County grew out of the accidental musical collaboration of Stephanie Miletic and Rory Sinclair in early 2011. They were both playing 'colour licks' on opposites sides of a nominally Irish band when Rory asked Stephanie if she wanted to work up a couple of pipe tunes on her fiddle with a view to presenting them for play with Gordon's Acoustic Living Room, a band he had been playing with since 2004. She enthusiastically agreed, and it was a terrific success. This set off a year of intense work where Stephanie and Rory developed a unique and tight style of playing Scottish pipe music. Soon a repertoire was developed and memorized and they moved to the idea that they should form their own stand-alone trio, with a guitarist filling out the missing spot. In the Fall of 2012, Gaye Zimmerman-Huycke, additionally a wonderful singer-song writer, joined the band and the trio, henceforth to be called Caledon County, came into being.
1. Riding Mountain / Hare of the Dug
Composed by Allan MacLeod, piper of the Tennehill Weavers and later Bourne and MacLeod, this beautiful tune of unusual form commemorates Riding Mountain National Park, approximately 100 miles from Winnipeg.
2. Midnight and Moonlight on the Water
3. My Home – The Shieling
4. Eriskay Love Lilt
5. Hector The Hero
Originally a fiddle tune composed by the legendary J. Scott Skinner of Aberdeen, it has since been taken on (and over) by pipers . Here we have Stephanie's fiddle carrying the tune with the big pipes providing the wonderful harmonies composed by Joe Rennix.
6. Lonely Loch nan Eun / Rakes of Kildare
7. His Brother's Lament (for Ian Sinclair)
8. How Will I Ever Be Simple Again
This is a tune written by the amazing Richard Thompson of Fairport Convention fame. It is one of the most beautiful and effective anti-war songs ever composed as it takes as its protagonist the collateral damage that war brings on its perpetrators. Once the dogs of war are unleashed, they are hard to put back in the kennel.
9. Lady Bridget Oppenheim / Jig Of Slurs
The late Bridget (Biddy) Oppenheim was the wife of Nicolas Oppenheim and the sister of Malcolm Caithness, Chief of Clan Sinclair, all good friends of mine. Biddy fought a brave battle with cancer to which she finally succumbed in April of 2011. Nick called me the previous November to ask if I could compose a pipe tune for Biddy as a present for what was likely to be her last Christmas. This tune ensued, and Stephanie encouraged the composition of the "seconds" (what pipers called harmony).
10. Slave's Lament
It is not well known that Robert Burns had applied for passage to Jamaica to look for work as there was precious little in Scotland. These plans were cast aside with the publication of his first book of poetry "chiefly in the Scottish dialect" and its subsequent popularity. It is a remarkable work in so many ways if for no other reason than that no one else in the late 18th Century was composing poetry from he the point of view of the Slave.
11. Andrew MacNeil of Colonsay / Piobaireachd
12. The Water is Wide
13. Mist Covered Mountains / Conundrum
This gorgeous melody with Gaelic words was composed by John Cameron of Glencoe in the 1850's and has been covered by many others over the years. Inter alia, it was played by the Royal Highland Regiment (Black Watch) at the funeral for John Kennedy. The harmony, composed by Rory (and called 'seconds' by pipers), is played by Stephanie.